REACH OUT TO US AND START PLANNING YOUR NEXT GREAT EVENT @ SEA
We know there is a "Learning Curve" to go through when considering a cruise ship for a large group event, as well as new information that becomes available on a daily basis as the cruise industry, in general, prepares for their "Return-to-Service" in the wake of a prolonged hiatus. At SeaSide Events, we make sure to be fully informed on the latest cruise industry news to share these insights with our clients and partners. Contact us by filling the form below and let's talk...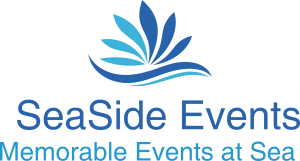 SeaSide Events is an industry leader in the organization, management, and delivery of world-class events onboard some of the world's largest and most advanced cruise ships. Our events experience spans corporate meetings, industry gatherings, music festivals, sporting events, and incentive travel. Today's state-of-the-art cruise ships provide a superior alternative to the traditional land-based hotels, resorts, or conference centers, as well as a cost-effective, exclusive, and very efficient way to conduct your corporate meetings, sporting, or musical events.
SeaSide Events has long-standing partnerships with over 20 cruise lines providing access to more than 320 individual cruise ships ranging in capacities from 200 up to 5,000 passengers. Our expert team works hand in hand with our clients to identify the most suitable cruise ships with the ideal combination of cruise length, destinations, and facilities to meet our client's needs for a memorable event at sea.
Contact us to discuss any aspect of your group event, or any questions related to cruise groups, charters or events at sea.