CRUISE EVENT QUOTE PROCESS
SUCCESFUL CRUISE SHIP EVENTS REQUIRE SPECIFIC ADVANCE PLANNING AND PREPARATION
We know event organizers have hundreds of options to choose from in terms of venues and locations for their next group event. This is why at SeaSide Events our mission is to work closely with our customers to create to most interesting, stimulating, and memorable group events at sea. Our first step is to fully understand our client's event objectives, theme, and budget. From that point forward we work diligently to bring together both a wonderful partnership experience, as well as a memorable event.
seaside event's methodology
The Meetings, Events, and Incentive Travel Industry generates over $ 150 Billion in annual spending and is challenged with raising the bar in terms of new venues and locations that capture the attention and imagination of millions of attendees while proving a safe and healthy environment supporting in-person meetings and activities. Today's modern cruise ships offer world-class conference centers, theaters, and lounges with advanced AV equipment that can accommodate groups as small as 20 to greater than 1,000. Strictly observed health and safety protocols ensure guests can focus on the event at hand while ensuring their well-being and enjoyment.
Information Gathering Phase
Group events on cruise ships have several upsides compared to traditional land-based options, and businesses of all sizes can take full advantage of this. At SeaSide Events, we work closely with our customers to first understand their specific event's needs and requirements, as well as key objectives and budgets. This information prepares us for the next step of the process.
cruise ship & itinerary options
At SeaSide Events, our cruise ship selection process has one simple goal: to find the right ship, itinerary, and destination to meet our customer's event objectives. We review dozens of ship and itinerary options while keeping dates, logistics, and customer needs at the forefront. Our experience in the cruise industry works to our customer's advantage at no additional cost.
cruise line negotiation & agreement
SeaSide Events interacts directly with those cruise lines offering the best ship and itinerary options to meet our customer's event objectives. We prepare the overall event quote listing specific event and venue options, as well as key terms and conditions. In the end, our customer selects the best ship option and we negotiate the final T & C's in close cooperation with the cruise line.
event planning & LOGISTICS
It is now time to plan and move forward with the grand event. SeaSide Events works closely with our customers at every step of the way to ensure each critical event element is carefully planned, scheduled, and managed. We work closely with the cruise line's shore and shipboard teams to ensure all events fall into place in order to meet our customer's expectations.
time to kick off your event @ sea!!
After much planning and preparation, it is time to kick off the grand event. SeaSide Events leverages our 20+ years of experience in the cruise industry to ensure every scheduled event, activity or presentation goes according to plan while checking off every box, from embarkation to disembarkation and all points in between.
…It's Showtime!!!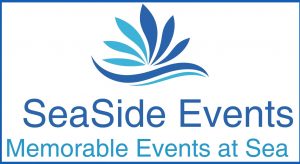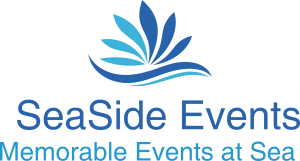 SeaSide Events is a global leader in the organization, management, and delivery of world-class events onboard some of the world's largest and most advanced cruise ships. Our events experience spans corporate meetings, industry gatherings, music festivals, sporting events, and incentive travel. Today's state-of-the-art cruise ships provide a superior alternative to the traditional land-based hotels, resorts, or conference centers, as well as a cost-effective, exclusive, and very efficient way to conduct your corporate meetings, sporting, or musical events.
SeaSide Events has long-standing partnerships with over 20 cruise lines providing access to more than 320 individual cruise ships ranging in capacities from 200 up to 5,000 passengers. Our expert team works hand in hand with our clients to identify the most suitable cruise ships with the ideal combination of cruise length, destinations, and facilities to meet our client's needs for a memorable event at sea.
Contact us to discuss your upcoming sporting event, or to answer any questions you may have on cruise events.
For any inquiries please email